All content is © Copyright DATALITE UK LTD 2023 - Wholesale Trade Supplies Photo and Picture Frames

A huge choice of over 60 frame designs and 20 popular sizes are available. Full details are on this site or in our BULK FRAME SUPPLY BROCHURE and PRICE LIST available to download in PDF format here:-
Picture Frames can be supplied with a choice of mounts, side wall mounting clips, and alternative styrene plastic Perspex style 'glass' for popular sizes. See Options Top Button for full details.
Bulk Supply - Frame Supplier
Credit Card secure payment can be made direct online. Mastercard, Visa, JCB, American Express and Electron cards are all accepted.


Customer's with Paypal Accounts can also pay by Paypal Express.


Alternatively UK Cheque, Postal Order, or Direct Bank Transfer can be used. 30 Day Invoice facilities may be available for companies and organisations on application, please telephone.


YOUR PRIVACY IS IMPORTANT TO US - See 'About Us' menu for full details of our Privacy Policy, together with business, website, and sales TERMS AND CONDITIONS.
Frame mouldings utilise QUALITY MATERIALS including solid wood pine, teak, beech, black, silver, gold, mahogany & walnut styles; cobble and bead effects and much more.


We pride ourselves with FAST EFFICIENT SERVICE, TOP QUALITY PRODUCTS, and LOW COMPETITIVE PRICES.
Colour Lockable Frame in choice of 16 stock colours.

Sturdy vandal resistant and waterproof frames for outdoor or indoor use.
If you require smaller quantities of frames rather than a wholesale bulk supply, be sure to visit our retail site FRAMES ONLINE UK:-
Fine range including A3, A4, 10x8 inch, and 6x4 inch Picture Frames. Available for despatch at low competitive retail prices. Can supply from single frame upwards.
REASONS TO BUY FROM FRAMES BULK SUPPLY
:-
Huge CHOICE of Photo Picture Frames & Display Products.
Crosscut SAMPLES available free of charge.
WHOLESALE TRADE Picture Frames at LOW PRICES
Superb CUSTOMER SERVICE at all stages.

ALL PRICES QUOTED ARE WHOLESALE TRADE PRICES EXCLUDING VAT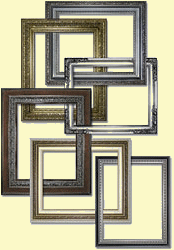 Quality Frames at LOW PRICES Great Customer Service!
ORDERING Is SAFE & EASY. Click BUY button or Telephone.
WIDE CHOICE DISPLAY PRODUCTS & PICTURE FRAMES
BUY AT LOW WHOLESALE TRADE PRICES - MADE TO ORDER
Quality 25mm Silver Snap Frames - Available from sizes A5 to A1.
Frames Online
FRAMES ARE SUPPLIED INDIVIDUALLY SHRINK WRAPPED OR WITH CORNERS - READY FOR RETAIL OR IMMEDIATE FRAMING USE.

DISPLAY PRODUCTS
Also offered is a huge range of display products. These include snap frames, lockable frames, light box signage, pavement signs, pole stands, banner stands, and complete exhibition display units.
FRAMES ONLINE UK BULK SUPPLY offers you supplies of large quantities of picture frames and display products at LOW TRADE WHOLESALE PRICES. Minimum order is only £100 NET worth of frame products. Discounts up to 15% available - See tables in left column for Discount and Delivery Price Details.

Picture Frames are made to order and will normally be delivered to any UK Mainland, Ireland, or Channel Islands address via pallet within FIVE WORKING DAYS, with an EXPRESS option for England and Wales.
Different frame sizes can be selected as required - To view larger image click thumbnails.
UK BUILT HIGH QUALITY DISPLAY PRODUCTS. THESE INCLUDE SNAP FRAMES, PAVEMENT SIGNS, BANNER SIGNS, SECURITY FRAMES & MUCH MORE.
Fixed Pallet Delivery Price List

England - £29 England (Express) -

£39


Northern Ireland - £75
Scotland - £65
Wales - £29 Wales (Express) - £39
Isle of Man - £175
*Isle of Wight - £105
Channel Islands - £155
Republic Ireland - £95

Order over £500 for FREE Delivery (England or Wales) or £20 Delivery Discount.

*For Isle of Wight please telephone first - special deals may be available.
All prices exclude VAT
£500 - FREE Delivery
(England & Wales) £1000 - 5%
£2500 - 10%
£5000 - 15%
(Automatically Deducted)
FURTHER DISCOUNTS
Minimum Frame Order is £100 NET +
Delivery
BUY WHOLESALE PICTURE FRAMES ONLINE or PHONE 01983 716160 - CREDIT CARDS ACCEPTED - £100 MIN ORDER
STYRENE (PERSPEX) OPTION FOR ALL PICTURE FRAME SIZES